Running Biomedical Trials, Saving Lives
"I was curious."




"This may sound odd, but as a medical student, it's quite interesting to go through the process of being very ill [as a result of taking part in an emerging therapy medical experiment]."




"It does help to create empathy for your [future] patients."




James M. Duggan, medical student, Oxford University





"These are great results."




"And challenge tests are a great way to short-circuit the process of proving it [this type of research] works."




"If we'd done this in the field, we would have had to follow children for three or four years."




Dr. Anita Zaidi, director of diarrheal diseases, Bill & Melinda Gates Foundation





"[I felt] happy to be doing something that could help millions of poor people who haven't got antibiotics."




"[During the worst part of the trial] you feel sorry for yourself and you say 'I;m never doing that again'."




"And then it's like childbirth -- you get amnesia, and you do it again. I've just signed up for a second trial."




Faye Frances, 42, psychiatric nurse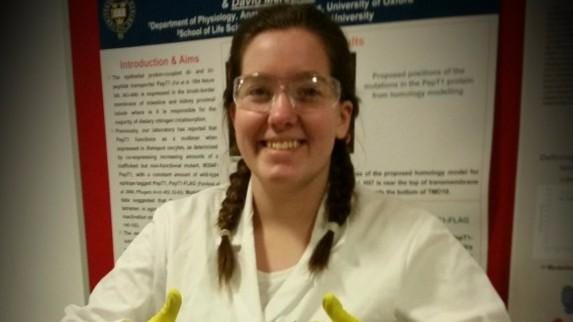 The student, pictured, says although she may come across as being 'unfazed' by the studies, she feels safe with knowledgeable staff who explain everything thoroughly beforehand
Typhoid was deadly when it became an unstoppable epidemic in various points of human history relating to the aftermath of natural catastrophes, of wars and of famines, reflecting the time in human history and medicine before antibiotics came on the scene. Invariably during times of great social upheaval, poor sanitation and lack of adequate hygiene results, leading to opportunistic lice carrying the disease, typical of times of social chaos and upheaval.
The bacteria leading to the onset of typhus can remain dormant for years before affecting people and in that stage it is also transmissible to others. Before the advent of antibiotics, which now in use swiftly aids the body to recover from the disease, it is likely that the woman named 'Typhoid Mary', who was a cook in houses of the aristocracy and who also worked in a New York maternity hospital was able to infect people in the years 1900 to 1915, but was never herself ill.
Recently 100 residents of Oxford in England agreed to take part in a trial of a new vaccine for typhoid which can spread in food and water and kills close to 200,000 people annually, many of them African, Asian and Latin American young children. Those who survive may end up with perforated intestines, heart problems and/or other life-complications.
As it happened, the vaccine turned out to be successful, at 87 percent effectiveness, as the only vaccine that is also safe for use with infants. It is already being manufactured inexpensively and is in wide use in India. The trial was run by the Oxford Vaccine Group under the funding auspices of the Bill & Melinda Gates Foundation. There is hope that the vaccine will be endorsed shortly by the World Health Organization.
Subjects who had agreed to be part of the trial, were given an experimental vaccine, after which they were deliberately infected with the pathogen to determine whether the vaccine succeeded in protecting them from the disease. This kind of trial can only be undertaken with illnesses such as cholera or malaria that respond rapidly to antibiotics, curing the individual in short order. Even so, those who agreed to participate were informed they would experience being miserably ill with typhoid fever for several days while the antibiotics established their curative function.
This being so, it is interesting that people would decide to take part in the trials, prepared to feel very unpleasant for a short duration while the vaccine performed its mission. Some people were very ill with high fevers, joint pains and headaches. These symptoms which tests clarified were those of typhoid led to the immediate application of antibiotics.
Just as the subjects themselves all reacted in various ways, presenting with a number of symptoms and combinations of symptoms, their reasons for participation varied, as well. Some were simply curious, others wanted to feel they had given of themselves for a good cause, and others yet were motivated by the money they would earn, about $4,000 in cash.

"This new vaccine could be a real game changer in tackling a disease that disproportionately affects both poor people and children."
"For the first time, we will be able to offer protection to children under two years of age, which will enable us to stem the tide of the disease in the countries where it claims the most lives."
"If we are going to make serious headway in tackling typhoid, we need to dramatically reduce the number of people suffering from and carrying the disease globally, which will in turn lead to fewer people being at risk of encountering the infection."
"This is a disease that only affects humans, and I believe that it will be possible for us to eradicate [it] one day. However, we're currently losing ground as overuse of antibiotics is leading to the emergence of new resistant strains, which are spreading rapidly."
Professor Andrew Pollard, professor of Paediatric Infection and Immunity, University of Oxford -- Director of the Oxford Vaccine Group

Labels: Bioscience, Disease, Experiments, Research