Eclipsing The Sun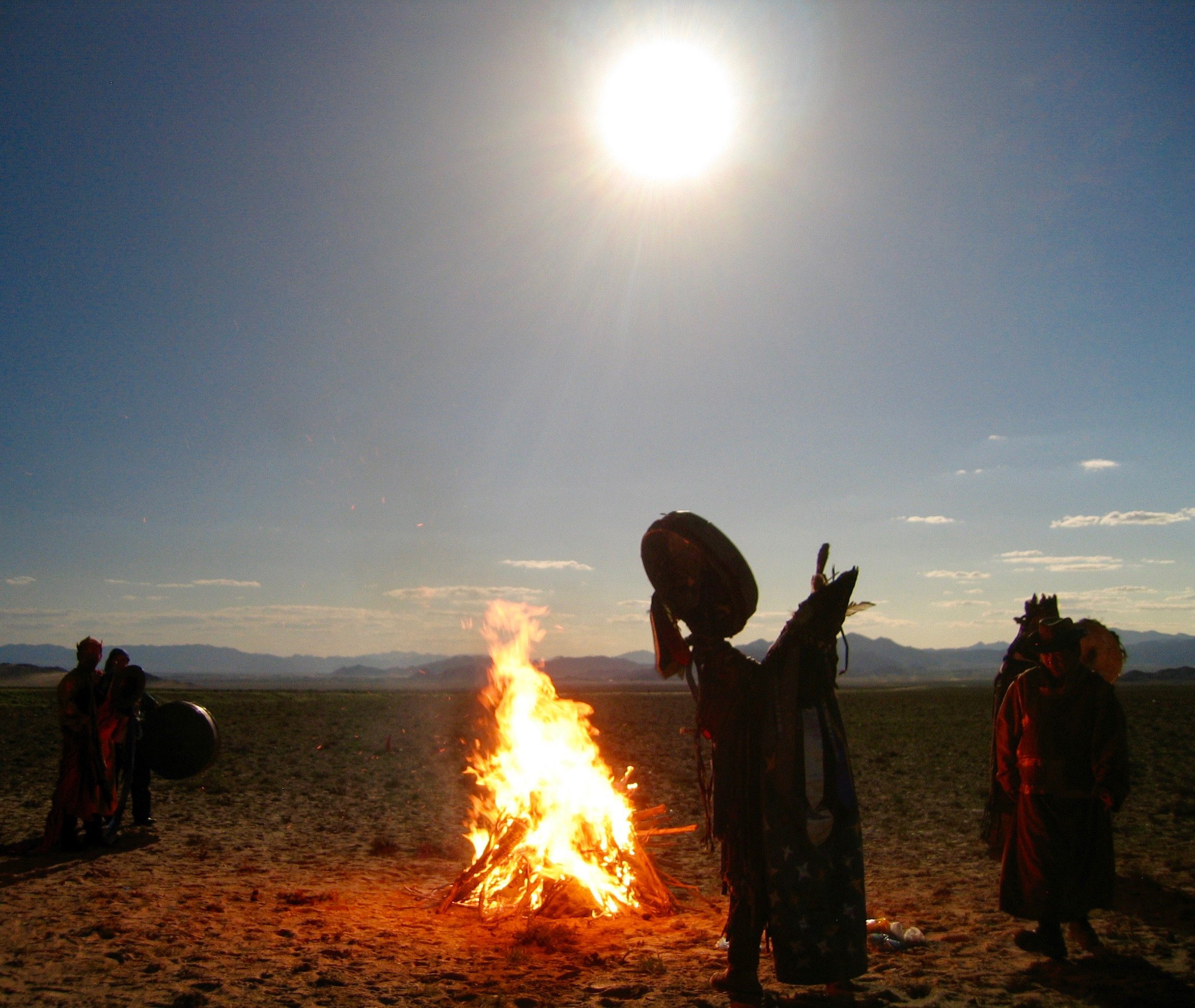 A Shaman ceremony during a total solar eclipse in Mongolia where Ray Jayawardhana, astrophysicist and Dean of the Faculty of Science, was to watch the event . . .
York University
"The belief [in the mountains of Mongolia in 2008] was that a monstrous deity called Rah was supposedly gobbling up the sun. People [were] howling, screaming, shouting, banging drums . . . to kind of make Rah spit the sun back out."




"It [eclipse of the sun] is kind of a magical event. You see the eclipse, but you also feel the chill in the air, you hear the birds singing . . . it's really kind of an immersive experience."




". . . I saw this notice at the American Central Library in Colombo [Sri Lanka] that had been put up by somebody trying to organize an amateur astronomy group. And it actually said Halley's Comet will be seen [from Sri Lanka]."




"And because of being active in the group [amateur astronomy club], I actually got to meet him [Arthur C. Clarke] when I was 14 or 15."




"I think there are many different ways of being a scientist, many different styles. For me, that [as a science communicator] was the appealing one."




"It's important [for me] to think of science as a very human endeavour. I do think it's doing good in the world to share the understanding of science but also the process of doing science, the frustrations of doing science, the excitement of doing science, with a broader audience."




Ray Jayawardhana, Astronomer, dean of science, York University, Toronto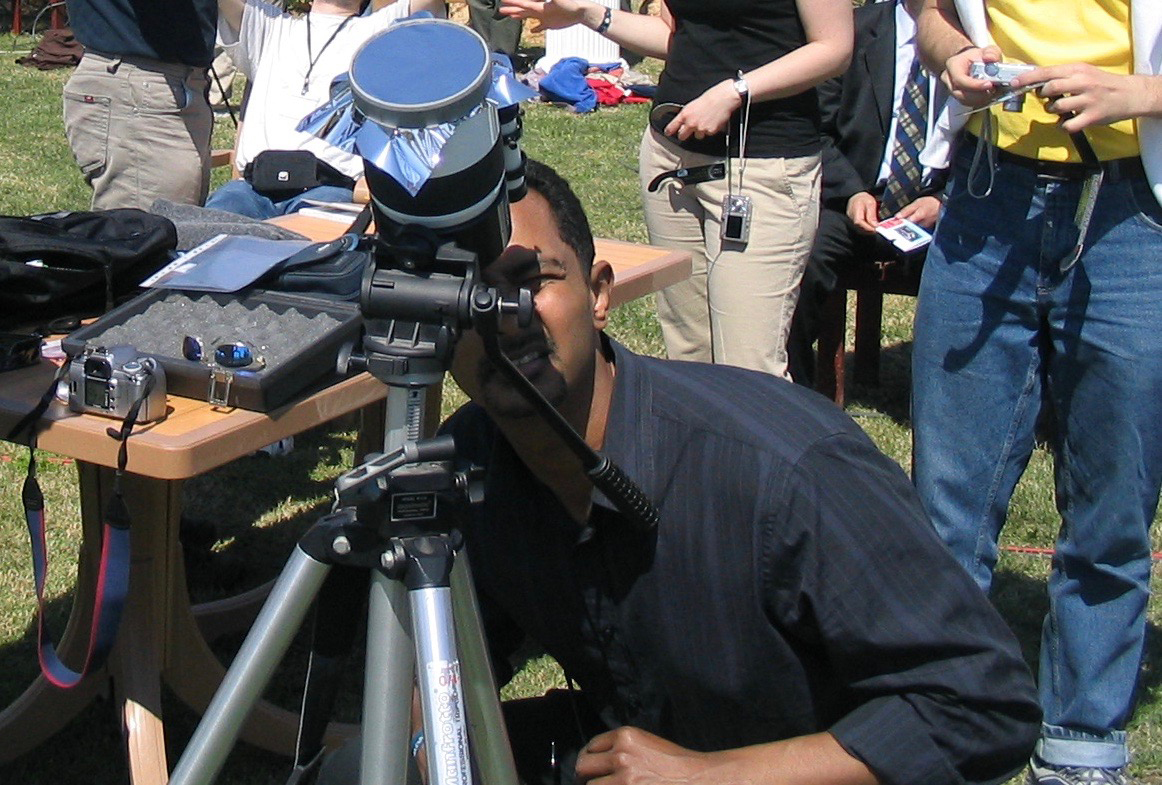 Ray Jayawardhana, astrophysicist and Dean of the Faculty of Science, taking in the total solar eclipse in Turkey...
York University
In 1998 Ray Jayawardhana produced his finding from a study he led on the possibility of planetary formation around a distant star that he and his colleagues observed. That paper, produced while he was still a graduate student at Harvard brought him to the attention of the world of astronomical observation. A hole was observed in the planetary disc surrounding the star, HR 4796A, conceived as evidence a planet in its formative stages was likely there.
This astronomer of growing influence in his chosen field was himself influenced by world-famed science writer Arthur C. Clarke, who had made his home in Colombo, Sri Lanka, in the 1950s. And Sir Clarke sponsored the very astronomy club that the-then young, but star-and-cosmos-struck Ray Jayawardhana became a member of. And while the budding astronomer lived in Colombo and took part in the astronomy club he also met Sri Lankan-bornNASA scientist Cyril Ponnamperuma.
"Ponnamperuma] actually studied lunar [rock and soil] samples that the [Apollo] astronauts brought back, so he was very well known in Sri Lanka for that. But he was also really good at giving public talks. He appeared in NASA videos about meteorites and their chemistry, and he was publicly engaged becoming science adviser to the president of the country"
, explained Dr. Ponnamperuma. The trio he most admired was rounded out by Carl Sagan, the astronomer who wrote and hosted the
PBS
series
Cosmos
in 1980.
This file photo taken on March 29, 2006 shows a full solar eclipse sin Antalya, southern coast of Turkey.
(

CEM TURKEL

)
Since the publication of Dr. Jayawardhan's 1998 paper on planetary formation no fewer than a staggering 3,500 planets have been discovered to be in existence outside Earth's solar system. The science of detecting planetary bodies resembling Earth, with the requisite potential to host life has been accelerating. With the use of the world's largest telescopes, techniques are being pioneered to recognize spectrographic light signatures from distant planets so atmospheric and surface conditions can be detected, capable of hosting life.
He was also involved in the science team tasked to design the Canadian component of the James Webb Space Telescope, larger than the Hubble Telescope, set to be launched by NASA in the coming year.
"As a result of that, we have been given 400 hours of guaranteed time to use James Webb . . . and we're using roughly half of that [time[ on exoplanets. It really has been heady stuff."
Ray Jayawardhana got instant attention while still a grad student at Harvard in 1998. He led a study on possible planetary formation around a distant star.
(

Steve Russell

)